Why WSCE has been started
WSCE was established to address the challenges and opportunities within the field of communication engineering, which has continued to thrive despite saturation. With a strong foundation in communication engineering, the world has the potential to lead the development of cutting-edge networking solutions. This symposium serves as a platform for technical communities to engage in deep-dive discussions on various aspects of networking, systems, and wireless communication. Through these exchanges, WSCE aims to accelerate communication innovation and promote collaboration among experts in the field.
Mission of WSCE
The mission of the 6th World Symposium on Communication Engineering (WSCE 2023) is to bring together researchers, academics, and industry professionals for a three-day conference to be held at the University of Macedonia, Thessaloniki, Greece (Hybrid Conf.) from September 27-29, 2023. The conference is co-sponsored by OPSS China, and technical co-sponsored by Nagoya Institute of Technology, University of Macedonia, hosted by University of Macedonia. WSCE is dedicated to creating a forum for the communication engineering community to collaborate on a wide range of topics, including networking, wireless, and system engineering. The symposium aims to foster the creation of new and innovative technologies that will help shape the future of communication engineering.
**Listener Registration Path Click
Proccedings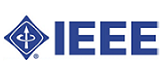 Submitted papers will be peer-reviewed by the conference technical program committees.
All submissions will be peer reviewed, and accepted papers will be published in the IEEE conference Proceedings, included in IEEE Xplore, and indexed by EI Compendex, SCOPUS, etc.
WSCE 2023 is listed in IEEE Conference Calendar. (check)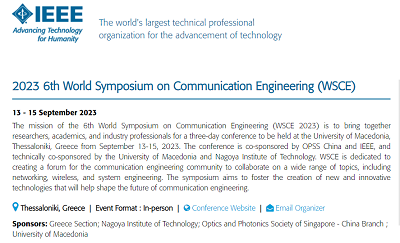 WSCE 2022 | ISBN: 978-1-6654-5056-0 | IEEE Xplore Online | EI Compendex, SCOPUS
WSCE 2021 | ISBN: 978-0-7381-1345-6 | IEEE Xplore Online | EI Compendex, SCOPUS
WSCE 2020 | ISBN: 978-1-7281-8563-7 | IEEE XPLORE Online | EI Compendex, SCOPUS
Get more history information here.
Special Sessions
SI: Next Generation (NG) 6G-Enabled Artificial Intelligence of Things - Digital twins- and Cobot Intelligence
Chair: Konstantinos E.Psannis, University of Macedonia, Greece
Co-chairs: Sotirios Goudos, Aristotle University of Thessaloniki, Greece; Panagiotis Sarigiannidis, University of Western Macedonia, Greece
(For details information)
S2: QoE/QoS for Future Networks and Their Applications
Chair: Assoc. Prof. Pingguo Huang, Gifu Shotoku Gakuen University, Japan
(For details information)
S3: IoT, Tactile and VR Internet
Chair: Sotirios Kontogiannis, University of Ioannina, Greece
Co-chair: Kokkonis George, University of Western Macedonia, Greece
(For details information)
Note: Please send the information of Special Session with the paper number assigned at submission to the following email address : wsce_conf@163.com.
Submission Due
August 15, 2023
Notification Due
August 30, 2023
Registration Due
September 05, 2023
---